Spotlight: 1967 Mercury Cougar
April 7, 2006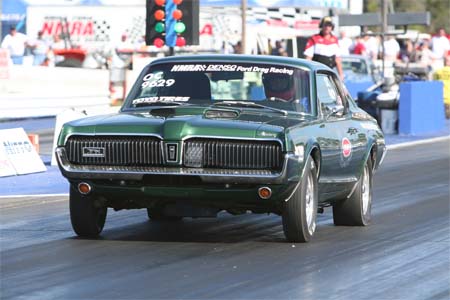 The introduction of the 1964 ½ Mustang by Ford Motor Company was both a reflection of changing trends in the automotive market and a catalyst for new ideas in automotive innovation and promotional strategies. By 1967, Mercury was poised to enter the evolving pony car market with a product that blended youthful performance with upscale sophistication, the Mercury Cougar. The introductory Cougar benefited from the ability to share engineering developments with the proven Mustang platform.

This beautifully restored 1967 standard model Cougar was sold new in Anaheim, California, and remained there until purchased by Dale and Susan McClenaghan in 1996. When the vehicle arrived in Michigan, it was well-worn and unrestored with 97,000 original miles. During the restoration process the small block 289 c.i.d. engine and the Merc-O-Matic automatic transmission were replaced with a Mercury Marauder 410 c.i.d. and a manual T-10 4-speed. Susan took on the engine project as engine builder, restoring the old Ford FE big block with numerous 427 and 428 performance components. Upon completion, the engine achieved 424 horsepower and 425 ft.-lbs. torque on dynamometer. While Susan handled the power plant, Dale executed the chassis restoration. He restored many of the standard components with performance-oriented parts including a Griffin three core aluminum radiator, 2 ½" stainless steel dual exhaust, custom high performance drive shaft, Ford 9" rear axle, Koni adjustable shocks and custom fabricated chrome moly traction control bars.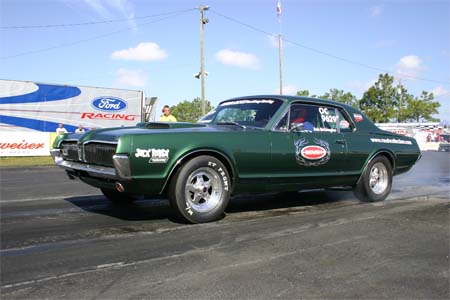 The car remained a mild modified street vehicle until the launch of the Roush Performance Products Competition Parts Program in 2006. A cross section of vehicles has been recruited into this new program to assist with the development of a drag race package for the Ford Mustang in ¼ mile competition. While the later model development vehicles will focus on chassis and engine components for current models, the 1967 Cougar will campaign a custom built 427-based Roush crate engine package geared to the classic muscle car enthusiast. The Roush 427 crate engine also made an appearance in the Chip Foose Overhaulin' F-100 pick-up truck unveiled at the 2005 SEMA show. The Mercury Marauder 410 will be removed and stored for later reinstallation.

Plans are set for the Roush Competition Parts Program to participate with the NMRA at their scheduled national events through the 2006 race season. In addition to the NMRA, the Roush group will utilize the Wednesday night Test and Tune sessions at the Milan Dragway in Milan Michigan.

Though privately owned, this 1967 Cougar remains a treasured member of the Roush Automotive Collection.




Previous Spotlight Features:
1939 Ford Convertible Deluxe (March 16, 2006)