Join Our Mailing List
Stay up-to-date with upcoming events,
special offerings, and news relating
to the ROUSH Automotive Collection.


June 14th, 2012 Open House and ROUSH Fenway Autograph Session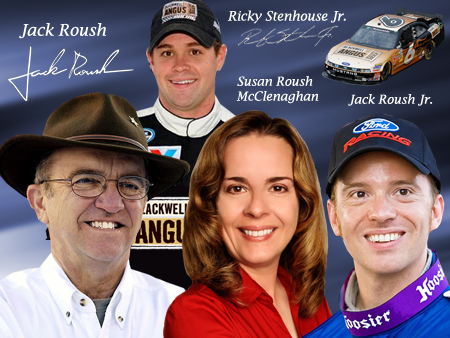 The Roush Automotive Collection is pleased to announce the second Open House event scheduled for the 2012 summer season to be held on Thursday, June 14th from 5:00 p.m. until 8:00 p.m. Activities planned for the Open House event include a Roush Fenway autograph session, car cruise-in, WCSX DJ & 94.7 LIVE Broadcast, RPP tours, drag race simulator, door prize drawings, and an engine build competition.

NASCAR Nationwide Series race car driver Ricky Stenhouse Jr. and team owner Jack Roush, and racers Jack Roush Jr. (son) and Susan Roush McClenaghan (daughter) will be on hand to meet fans and sign autographs from 5:30 pm until 7:00 pm. Autograph session times and appearances may be subject to change. Please call Event Hotline for details at 734-779-7276.

Autograph session line procedures: There will be two lines. Jack Roush and Ricky Stenhouse Jr. will be in Line 1 that requires a wristband. Susan Roush McClenaghan and Jack Roush Jr. will be in Line 2 that does not require a wristband. A total of 200 wristbands will be passed out beginning at 4:30 pm to those in line 1. You MUST have a wristband to receive signatures from line 1 (however wristbands do not guarantee signatures). Limit 1 item for Ricky Stenhouse Jr. and limit 1 item for Jack Roush. Line procedures may be subject to change. There is no cost for the wristbands or the autograph session. This event is free and open to the public. No Pre-registration required for the open house, cruise-in, engine build or autograph session.

WCSX DJ, Doug Podell will be on site broadcasting LIVE from 2 – 6 pm. Stop by the WCSX tent to meet him, to see the stone soup vehicle, or to purchase $10 Stone Soup Raffle Tickets for the chance to win the 2012 stone soup vehicle!!! (All money raised goes directly to the Children's Miracle Network).

Sign up to tour the ROUSH Performance Facility which is separate from the ROUSH Collection Museum. Shuttles leave from the ROUSH Collection to transport guests to the ROUSH Performance Facility where they can see firsthand what goes into producing a ROUSH Mustang. Tours will be held at 10:00 am and 1:00 pm. Tours typically are 1 hour to 1 hour 30 minutes in length. Limited seating is available; to ensure your place on the shuttle please Pre-Register by calling 734-779-7290.

The Roush Automotive Collection Retail Store & Museum will be open from 9:30 am – 8:00 pm for your shopping needs and for free self-led tours. Come early & get what you need for the autograph session or to walk around the museum. A selection of authentic race car parts are available for purchase. Treasure hunters will find race car body panels from the NASCAR ROUSH Fenway teams and race driven tires. Race driven tires are only twenty dollars each and are great to get autographed! A drag race simulator will also be available to test your reaction time. See if you have what it takes to be a drag racer.

A series of door prize drawings are held throughout the evening. Drawings will be held at 5:30 pm, 6:30 pm and 7:30 pm. Door prize give-aways include a pair of MIS Grandstand seat tickets for the Quicken Loans 400 on June 17th 2012. Additional door prize give-aways include a variety of ROUSH Fenway memorabilia. Contestants must be present to win. One entry per person per night. Multiple entries in door prize drawing will lead to disqualification for all prizes.

Two teams from the ROUSH Engine Build Department will compete side-by-side to see who can execute a complete engine build-up, including a live test run, in the quickest time. With all this fun you'll be sure to work up an appetite, Cottage inn will be on site selling pizza by the slice and a local vender will be selling soda and water.

Designated parking will be available around the Roush Automotive Collection and is free. The Roush Automotive Collection is located at 11851 Market St. Livonia, MI 48150. Market street is north of Plymouth Rd. between Newburgh and Levan Rd.