Join Our Mailing List
Stay up-to-date with upcoming events,
special offerings, and news relating
to the ROUSH Automotive Collection.


2012 Summer Season Kick-Off: May 10th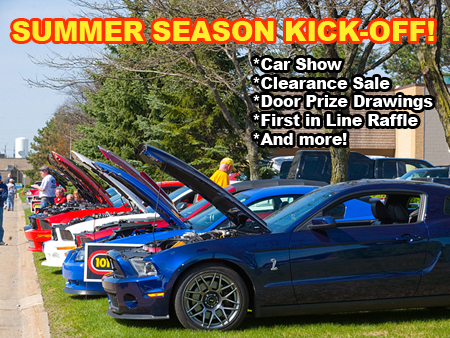 The Roush Automotive Collection is pleased to announce the first Open House event scheduled for the 2012 summer season to be held on Thursday May 10th. This Open House event features WCSX DJ & Car Show, Stone Soup Vehicle Display, Stone Soup Raffle Tickets, First in Line Drawing, Door Prize Drawings, Roush Performance Tour, ROUSH Engine Build Demonstration, and our highly anticipated Clearance Sale. The doors open for the sale from 10:00 am until 8:00 pm. This sale will feature discounts on a variety of ROUSH and ROUSH Racing apparel and merchandise. Please note that no drivers will be attending this event.

This is the first of four summer events that will be held for the 2012 season. Open House Cruise-in events will be held on May 10th, June 14th, August 16th, and September 13th at our Livonia, MI facility. All of our open house events are open to the public and free to get in.

Detroit's 94.7 WCSX DJ will be on location from 6:00 pm – 8:00 pm and will be hosting a car show. Cruisers are invited to enter their classic and special interest vehicles for a chance to win a trophy. Trophies include: Most Unique, Coolest Paint, Cruiser Choice, WCSX Choice and Client Choice. If you would like to pre-register for the car show please visit WWW.WCSX.COM/CRUISERS/ and join the Classic Cruisers Car Club to receive updates. There is no charge to join and registration for the car show is free. WCSX will have their Stone Soup vehicle on display and the chance to purchase $10 Raffle tickets to win the 2012 Stone Soup Vehicle!! (All money raised goes directly to the Children's Miracle Network). Don't miss your chance to be first in line for the June 14th 2012 Autograph Session. Visit the WCSX tent to enter the First in Line Drawing. No purchase necessary. Limit one entry per person. One lucky person will win!

During the Open House, register for a chance at our door prize give-away. Drawings will be held at 5:30 pm, 6:30 pm and 7:30 pm. Contestants must be present to win. Multiple entries in door prize drawing will lead to disqualification for all prizes. Door prize give-aways include a chance to win an Autographed Carl Edwards 2008 Texas Victory Lane Hat, Autographed Greg Biffle 2008 New Hampshire Victory Lane Hat, Autographed Matt Kenseth 2008 Dewalt 1:24 Scale Die-cast, Autographed Matt Kenseth Dewalt 3 x 5 Flag, a 3-piece Roush Racing BBQ Set, and a Silver Roush Mustang 1:18 Scale Die-cast signed by Jack Roush!

Treasure hunters will find race driven tires, signed race windows, pedals and more! Race driven tires from these Roush Fenway teams are available for purchase for only twenty dollars a piece!

Sign up to tour the Roush Performance Products Facility which is separate from the Roush Collection Museum. Shuttles leave from the Roush Collection to transport guests to the Roush Performance Facility where guests can see firsthand what goes into producing a Roush Performance vehicle. The tour will be held at 2:00 pm and seating is limited to 15 people; to ensure your place on the shuttle please Pre-Register by calling 734-779-7290.

A two man crew from the Roush Engine Build Department will demonstrate a complete engine build-up, including a live test run upon completion. With all this fun you'll be sure to work up an appetite, Cottage Inn will be on site selling pizza by the slice and a local vender will be selling soda and water.

Please join us for great cars, great food, and quality family entertainment during the Roush Automotive Collection's 2012 Summer Season Kick-off.